Gianfranco Artusi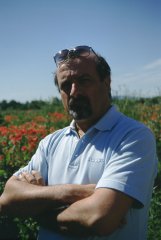 Photographer from a young age ... Starting the first experiences with the mythical Zenit ... Also because the economic possibilities did not allow me more expensive purchases, I started like many, to take landscape and naturalistic and portrait photos.
Over the years, starting to work, and having more possibilities, I switched to more complete machines that could afford shooting techniques such as the Canon A1 and the Canon T90. So I started to experiment with other photographic forms such as studio photos and Glamor and experimental under a microscope.
Over the years and with the experience gained I began to participate in photo competitions obtaining flattering successes.
In 1992 I felt the need to complete myself photographically, looking for new photographic expressions, and being very sensitive to the problems of nature and the preservation of it, I began to attend PADI and SSI underwater courses, patents and specialties of underwater photography to be able to document the beauty of the seabed of the world's seas.
°°°°°°°°°°°°°°°°°°°°°°
For further information and contacts, fill in the form below in all its fields, thanks!